The Ocean at the End of the Lane/ Der Ozean am Ende der Straße von Neil Gaiman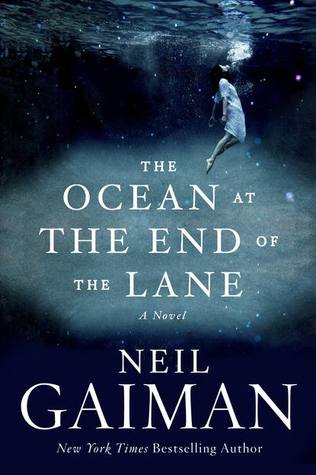 Sussex, England. A middle-aged man returns to his childhood home to attend a funeral. Although the house he lived in is long gone, he is drawn to the farm at the end of the road, where, when he was seven, he encountered a most remarkable girl, Lettie Hempstock, and her mother and grandmother. He hasn't thought of Lettie in decades, and yet as he sits by the pond (a pond that she'd claimed was an ocean) behind the ramshackle old farmhouse, the unremembered past comes flooding back. And it is a past too strange, too frightening, too dangerous to have happened to anyone, let alone a small boy.
Forty years earlier, a man committed suicide in a stolen car at this farm at the end of the road. Like a fuse on a firework, his death lit a touchpaper and resonated in unimaginable ways. The darkness was unleashed, something scary and thoroughly incomprehensible to a little boy. And Lettie—magical, comforting, wise beyond her years—promised to protect him, no matter what.
A groundbreaking work from a master, The Ocean at the End of the Lane is told with a rare understanding of all that makes us human, and shows the power of stories to reveal and shelter us from the darkness inside and out. It is a stirring, terrifying, and elegiac fable as delicate as a butterfly's wing and as menacing as a knife in the dark.

Mein Teaser:
    He said, "Someone left something on the backseat." My father reached back and pulled the blue blanket away, that covered the thing in the back seat, even as the policeman was telling him that he shouldn't do that, and I was staring at the back seat because that was where my comic was, so I saw it.
It was an it, the thing I was looking at, not a him.

– The Ocean at the End of the Lane von Neil Gaiman, Seite 17
Ich weiß ehrlich gesagt überhaupt nicht so richtig, was mich erwartet! Aber es wird immer besser. 🙂
Morgen habe ich leider kein Buch für euch! Also bis Donnerstag. 🙂
PS: Ich lese auch immernoch The 5th Wave von Rick Yancey.