Stone Cold Touch by Jennifer L. Armentrout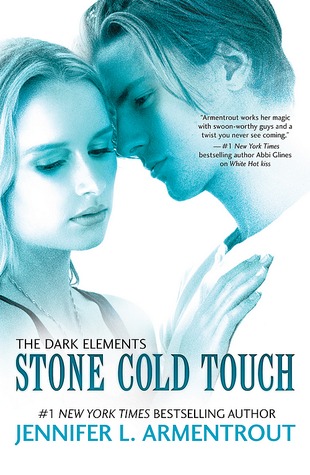 Every touch has its price
Layla Shaw is trying to pick up the pieces of her shattered life—no easy task for a seventeen-year-old who's pretty sure things can't get worse. Her impossibly gorgeous best friend, Zayne, is forever off-limits thanks to the mysterious powers of her soul-stealing kiss. The Warden clan that has always protected her is suddenly keeping dangerous secrets. And she can barely think about Roth, the wickedly hot demon prince who understood her in ways no one else could.
But sometimes rock bottom is only the beginning. Because suddenly Layla's powers begin to evolve, and she's offered a tantalizing taste of what has always been forbidden. Then, when she least expects it, Roth returns, bringing news that could change her world forever. She's finally getting what she always wanted, but with hell literally breaking loose and the body count adding up, the price may be higher than Layla is willing to pay…
Warning: You are able to read this review, but there might be spoilers since everyone defines them differently.

5/5 inZayne, holy stars!!!
My Goodreads Reading Progress: (I just copied and pasted it from GR in here)
page 11
2.0%
""Holy shit balls for Sunday dinner" Haha I love Jennifer for sentences like this one:D"
page 24
5.0%
""God. You're beautiful, Layla. A gift." What are u?!?! InZAYNE??? OMG why is he telling her something like this?!?!"
page 55
11.0%
"HOLY DEMON BABIES!! ROTH!!! ♥♥♥♥♥♥"
page 79
17.0%
"JENNIFER WHAT R U DOING?!?! Well…I'm a speechless, crying piece of mud."
page 108
23.0%
"I just can't stop READING ♥-♥ Oh sith… it's 3am :'D"
page 164
35.0%
"Whoa…well that was…intense. (Zayne + Layla + Bambi) ;-)"
page 200
43.0%
"Damn… (after the nighcrawlers fight)"
page 280
60.0%
"Damn… what r u doing? *Layla, Brother, Sister, woman with blue eyes*"
page 365
78.0%
"It's 2:23am by now…to late:D :/"
My "right after reding" Review On GR:
Whoa…I have no words right now.
@Emalie: The last chapter wasn't that bad..but the ones before.
My Actual Review
Wow. JLA worked her magic on me again…I think after my status updates and my little review on GR you know what I thought about it. *mindblown*
.
.
.
This book was, again, sent straight from heaven and I seriously don't know how to thank JLA for being so awesome.
Her romantic scenes are THE BEST and her characters are perfect. If I had to choose one author to read books from for the rest of my life, it would be her.! (In the following teaser I won't tell who is speaking because come on, this would be such a mean spoiler!:D)
"But don't forget about me. I'm here for you. I always will be"
– page 30

He's not in love with me and it's obvious to everyone but you. *** wants you. And he's in love with you.
– page 145

Can't what, Layla? Can't think about you? Can't tell tell you that you have always been the most amazing girl I've ever known?
– page 221 (oh I want to continue this spoiler so badly, but this would be a way to BIG spoiler)

I love you, Layla. Do you hear me? I've loved you since the first moment I heard your voice and I will continue to love you. No matter what. I love you.
– page 424
And these above aren't even kissing scenes. But these would be to long. :'-D
Jennifer didn't resist to take in some ass-kicking action! Wow! And she didn't save up with blood either. 😀 And she likes to kill off characters! Hmm…
Coming to fights, killing and spilling blood…oh gosh I had to cry sooo much in the ending…not the end-ending, tho. No. For the last 2 chapters I was totally numb. But before…all hell broke loose inside me and I was a crying book-nerd ,curled up in fetus position while holding the book, laying in my bed.
And now I have a Book-Hangover, like everytime after reading one of Jennifer's books. Please,
Oh and I'm still #Team Roth!! ❤
I glanced over my shoulder and Roth raised a brow as one side of his lips slipped up. "Can you walk in front of me?"

He chuckled deeply. "Not in this lifetime."

– Stone Cold Touch by JLA, page 438
I just don't know what to say…uhm yeah…I hope your still happy with the above and it gave you some idea about the book! :-)) ❤
It's the End of 2014 Read-A-Thon Day and Game #6
Hosted by: http://yabookaholic123.blogspot.ie/
Task: Winter Wonderland…. create a Wintery scene with either natural materials or things inside that are associate with the season and display the book that you are currently reading
I won't participate in this one! 🙂 But if you do, leave a link to your post! 😉
But I'll give you an update on my reading progress!!
Books finished: 3
Pages read: 710