Miss Peregrine's Home for Peculiar Children by Ransom Riggs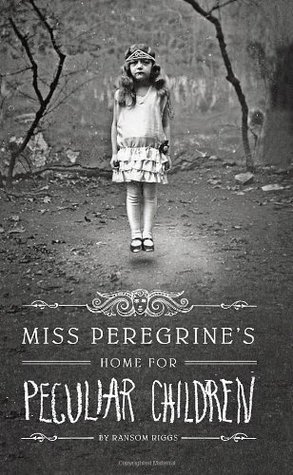 A mysterious island. An abandoned orphanage. A strange collection of curious photographs.
A horrific family tragedy sets sixteen-year-old Jacob journeying to a remote island off the coast of Wales, where he discovers the crumbling ruins of Miss Peregrine's Home for Peculiar Children. As Jacob explores its abandoned bedrooms and hallways, it becomes clear that the children were more than just peculiar. They may have been dangerous. They may have been quarantined on a deserted island for good reason. And somehow—impossible though it seems—they may still be alive.
A spine-tingling fantasy illustrated with haunting vintage photography.
My Teaser:
[…] It lived behind a rope I stepped over and a little warning sign I didn't bother to read, and Its case had polished wooden sides and a Plexiglas top so that top so that you could only see into it from above.
When I looked inside, I think I actually gasped – and for one panicky second I thought monster! – becuase I had suddenly and unexpectedly come fac-to-face with a blackened corpse.
– page 93, chapter four (4)
Well…I'm not exactly happy and thrilled about reading this…I had my expectations because of all the good reviews of booktubers… but I really have to drag myself to read this! It isn't exactly my genre and I just want to finish it now. Oh and it takes it's time to get to fast-pace and some action.
BUT I really like the pictures and the cover!!!
Don't worry about me being so late. School is killing me this week and I really don't know when to do all this stuff. :'o Hope you are better!!
See you (hopefully) tomorrow, good night! 🙂
PS: Was ist ein Teaser Tuesday(TT)? –> Hier klicken