Wintergirls by Laurie Halse Anderson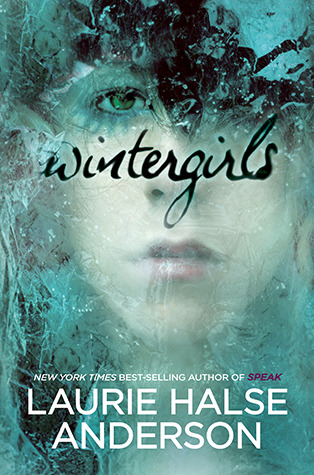 "Dead girl walking", the boys say in the halls.
"Tell us your secret", the girls whisper, one toilet to another.
I am that girl.
I am the space between my thighs, daylight shining through.
I am the bones they want, wired on a porcelain frame.
Lia and Cassie are best friends, wintergirls frozen in matchstick bodies, competitors in a deadly contest to see who can be the skinniest. But what comes after size zero and size double-zero? When Cassie succumbs to the demons within, Lia feels she is being haunted by her friend's restless spirit.
Laurie Halse Anderson explores Lia's descent into the powerful vortex of anorexia, and her painful path toward recovery.
My Teaser:
"What do I want?
The answer to that question does not exist."
-GR

"I knew how much it hurt to be the daughter of people who can't see you, not even if you are standing in front of them stomping your feet."
-GR
So I'm currently listening to the audiobook of Wintergirls! And that's the reasons why I can't list a page and took the quotes from Goodreads. And I couldn't decide which quote to take, so I took both.
I only have about 2 hours to go! Well I don't know when I get to finish it, but I hope today. :-))
See you tomorrow and have a nice day! 😉
PS: What's a Teaser Tuesday(TT)? –> Click here
PS2: I planned this for tomorrow! Don't know why I messed up with the date…sorry!