The Dead List by Jennifer L. Armentrout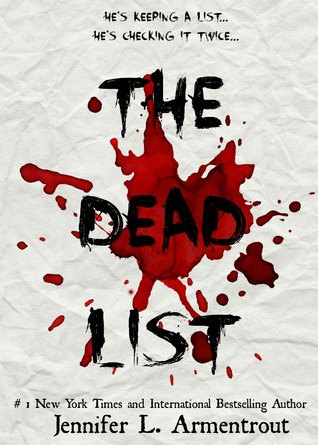 From Jennifer L. Armentrout's blog posted on April 15, 2015:
"The Dead List is a full standalone novel, coming in at roughly 93,000 words. It's a Young Adult Romantic Suspense Yes. Lots of Romance. Sort of like Don't Look Back, but a throwback to movies like Scream and the sort of campy fun ones. Think I Know What You Did Last Summer meets Scream. But with more romance.
That's all I'm going to say about the book. I think a blind read is something different. A little fun.
There are no plans at this time to sell it or put it in print soon. I probably will one day, but the point of this is that it's free for you guys.
The Dead List is a raw novel, meaning it hasn't been through copy editing. You'll going to see typos and some strange things. You're actually going to see what a book of mine looks like before copy editors get their hands on it. Hopefully there are no random 'shits' where there is supposed to be 'shirts'.
I will be posting a chapter or a couple of chapters at a time, as one does on Wattpad. Chapters will be added every Wednesday, Friday and then Sunday as long as I'm not traveling or, you know, acts of God clause.
You can find me on Wattpad by going HERE
Can I just say that the last twist took me a bit off guard? I mean I was curious about certain persons, but…no! don't look at me like that! I'm not telling you! 😀 😛
My rating is not only one rating.
I give 4.5 or 5 stars to the characters. I mean come on. Jensen! 😀
Then there are 4 stars for the idea itself. It was interesting, entertaining and something new – coming from JLA.
But 3 stars for the way she did it. It felt really short-paced and somehow like she kept it low. But don't think there wasn't some action in it in any way!
No..! Not only this one. 😉 [But it wouldn't be Jen without the romance kind of action, right?]
But don't think I didn't like it! It was still awesome and I loved her writing, again. So if you are a passioned JLA-reader you should definitely read this book. Like…now! What are you waiting for? 😀
Love you, Freya 🙂
PS: Sorry for the really, really short review, but I don't feel into it right now.
But I wanted to say you it's worth the read!