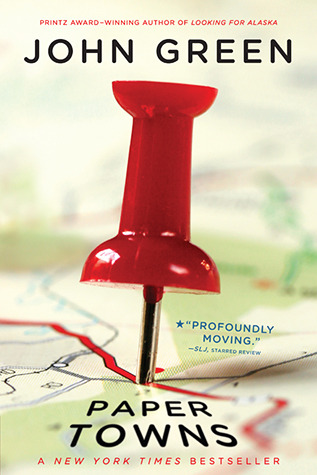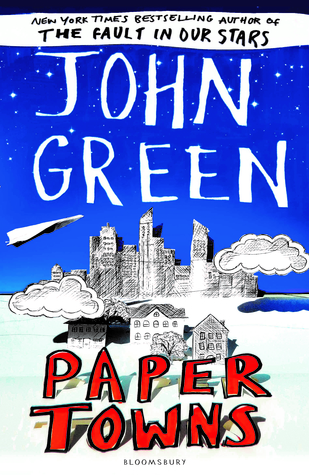 Quentin has always loved Margo Roth Spiegelman, for Margo (and her adventures) are the stuff of legend at their high school. So when she one day climbs through his window and summons him on an all-night road trip of revenge he cannot help but follow.
But the next day Margo doesn't come to school and a week later she is still missing. Q soon learns that there are clues in her disappearance . . . and they are for him. But as he gets deeper into the mystery – culminating in another awesome road trip across America – he becomes less sure of who and what he is looking for.
Masterfully written by John Green, this is a thoughtful, insightful and hilarious coming-of-age story.


My review: It's not the first book I read by John Green.
I started with the German translation of The Fault in Our Stars, then went on to Looking For Alaska. After that I tried An Abundance of Katherines and now Paper Towns.
They are kind of in order of how I liked them. Alaska and Hazel are on the same page (but sometimes I like the one better than the other) and I never got to finish the Katherines. I hate not finishing books and usually don't do it, but I couldn't help myself.
Paper Towns was similar to me, but I knew there would soon be a movie and the story sounded way more interesting.
It was still so damn hard to finish this book! The only things that tenses it up a bit were the beginning, the revenge act and somehow the ending. Though the ending was really short (too short for my liking) and closed for the story itself but open for the relation of the characters.
Paper Towns seems like a bit of a blend of some of John Green's books.
First there's the boy. He is weird or insecure, but usually an outsider (Looking for Alaska and An Abundance of Katherines) . He may be intelligent or not, but he is in love with this one girl he gets to know throughout the book (Looking for Alaska) or he is in love with the girl he has known for his whole life. (We can leave the guy from the Katherines out, because he's just stuck in his routine from his love life.)
The girl (taken from Looking for Alaska). She is loud, full of mistery, some kind of popular – better – know. She doesn't seem to be afraid of even one thing there is in this world and in the end she's far different (personality) from what the boy first thought.
But I have to tell you one thing: even if the ending of Paper Towns is kind of sad, it's not as sad as the end (the one in the middle) of Looking for Alaska.
In every of the three mentioned books – An Abundance of Katherines, Looking For Alaska, Paper Towns – the boy has a best friend who has also always the same personality, it seems.
(In the end the guy get's lucky, too.)
I think the idea itself is nice and I'm really looking forward to the movie, because the movie always summarizes the book. *yay!*
I also think that I would have enjoyed the book more if I hadn't read the other books by John Green before this one. The characters are just so similar and this book's middle was pure boredom. Nothing ever really happened and it took me a loooong time to finally get through it.
But now I'm done and don't have to think back!:-D
I don't know if I'll still read more of John's books, but I think I will. (Will Grayson, Will Grayson!)
If you also read the book, what do you think of it? Have you read other books by John Green too? Whick books?
My rating: 2/5 stars on Goodreads
I'll leave you with that and see you around! 🙂